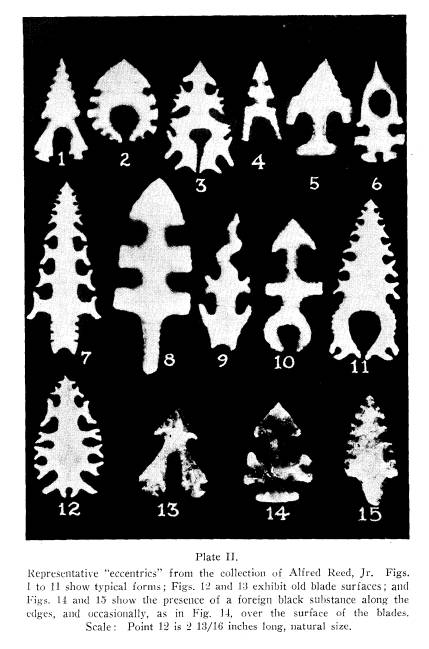 A STUDY OF THE OKLAHOMA ECCENTRIC FLINTS
By H. HOLMES ELLIS*
Since March, 1936, when they were first called to the at-
tention of the general public,7?? the Oklahoma eccentric flints have
presented a puzzling archaeological phenomenon. Dr. Forrest E.
Clements,1 collaborating with Mr. Alfred Reed, Jr., wrote the
only satisfactory account of the find and the circumstances sur-
rounding it, but due to lack of time and facilities he was unable
to carry out a detailed analysis of the specimens themselves. In
June, 1939, the Lithic Laboratory for the Eastern United States at
the Museum of the Ohio State Archaeological and Historical
Society, at the request of Dr. Clements, began this analysis, the
results of which are embodied in the present paper.
Before these results are presented, the history of the find
itself should be reviewed briefly. In the summer of 1921, Mack
Tussinger, a half-breed Indian, is said to have uncovered a cache
of some 3,500 perfect and a number of broken, very intricately
notched flint specimens. The cache was in a mound in the
northern part of Delaware County, Oklahoma, on the north side
of the Elk River about six miles above its junction with the
Grand River. Tussinger claims to have sorted the specimens
according to size and re-buried them in his yard. During the next
few years about 800 of the smaller ones were sold to Dr. W. C.
Barnard, a collector in Seneca, Missouri. Some were also sold by
Tussinger to Tom Fleetwood of Wyandotte, Oklahoma. In
1931, Tussinger, seeking a wider market for his material, began
to dispose of his remaining specimens through J. A. Robertson
who operates a gasoline station and roadside stand near Baxter
Springs, Kansas. After Robertson's appearance on the scene the
* The author is deeply indebted to H. C. Shetrone and R. G. Morgan for the
assistance which they rendered during the course of this study.
?? The arabic numerals refer to corresponding numerals in the bibliography
appended.
(121)