THE MIAMI COUNTRY, 1750-1815
AS DESCRIBED IN JOURNALS AND LETTERS
by ELIZABETH FARIES
Senior Assistant, Reference and Catalog Department,
Dayton Public Library
During the late 1700's and the early 1800's the "Miami
Country" was a definite geographic area in the Northwest Territory.
This area has been defined as a region of approximately 5,000
square miles in southwestern Ohio, with a small adjoining "wedge
of southeastern Indiana." It was particularly the land that forms
the valleys of the Great Miami and the Little Miami rivers and
their tributaries, an area extending more than 100 miles inland
from a fifty-mile base along the Ohio River.1
In common with the Ohio Country, of which it was a part, it
is believed that the Miami Country was first visited by white men
when La Salle and his company made their trip down the Ohio
River in 1669-1670. Spurred on by a lucrative fur trade with the
Dutch, and later with the English, the Iroquois for many years con-
trolled the Ohio Country, using the Ohio River as a road to battle
in their war with the western tribes. During these years and, in
fact, until the end of the American Revolution, while the French
and the English contended for control of these western lands, the
area was visited only by fur traders, by soldiers on expeditions
against the Indians and the enemy nation, and by hunters who pre-
ferred lonely cabins in the great forests to the more settled areas
of the East.
As these visitors passed back and forth along the rivers and
over the Indian trails, their advance in knowledge of the country
is shown in the maps that were issued, first in France and then in
England. The first maps were crude and inaccurate on many points,
but in 1747 a map was sent out from London that "showed in
1 Pierce Beaver, "Miami Purchase of John Cleve Symmes," in Ohio State
Archaeological and Historical Quarterly, XL (1931), 284; Frank P. Goodwin, "Building
a Commercial System," in ibid., XVI (1907), 316.
48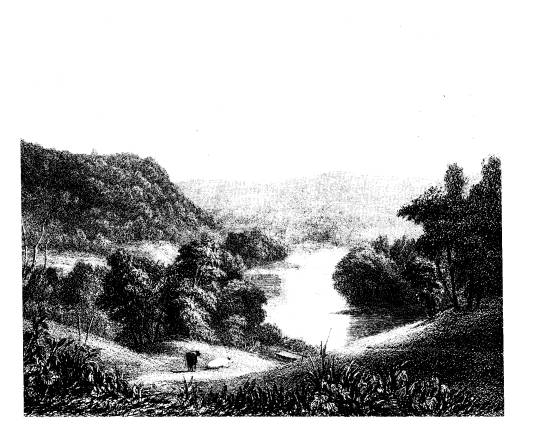 VIEW ON THE GREAT MIAMI
"The view is on the Great Miami from the resi-
dence of Captain Doyle, and lies two miles and
a half south of Dayton. Ohio." The picture was
painted by Godfrey N. Frankenstein. From a
print in the Ladies Repository (Cincinnati), VIII
(1848), obtained through the courtesy of the
Dayton Public Library.